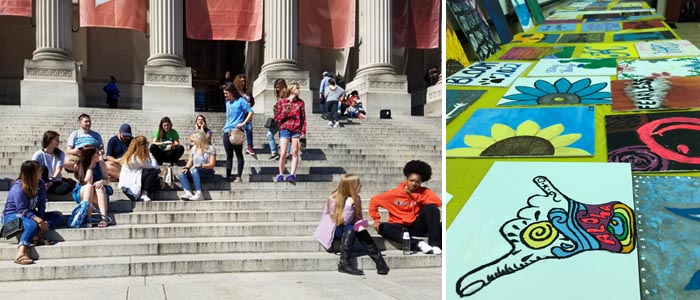 The Visual and Performing Arts (VPA) Learning Community is a community of students who share a common passion for the arts. Many of our members are majors or minors in arts fields such as music, creative writing, dance, theatre, or studio art. However, we also have students who are chemistry, criminal justice, and accounting majors, as well as students who are currently undeclared. And while students do benefit from living in the same residence hall, we have several members who are commuters or who live in other halls.
The most important thing about our Learning Community is that it provides an atmosphere where you can gain the opportunity, support, and experience you'll need to flourish at Bloomsburg. Trained peer mentors work closely with Learning Community members, organizing activities, leading study groups, and providing guidance to navigate college life.
Create
VPA Learning Community students often quickly develop into leaders of the Bloomsburg University arts community, taking on major roles in theatre, music, and dance performances, and creating significant works in the literary and visual arts. The Learning Community hosts a variety of events such as off-campus trips to museums and performances, as well as many on-campus events.
The Learning Community is affiliated with The Center for the Visual and Performing Arts, formed to provide a vital link between Bloomsburg University and the Bloomsburg community by showcasing students' artistic endeavors. The Center offers programs from the Departments of Art and Art History, English, and Music, Theater, and Dance to celebrate the arts and support the connection between the university and our broader community. The Learning Community is a vital part of the overall CVPA mission.
Here's some of what is planned this fall for first-year students who join the VPA Learning Community:
Travel to off-campus concerts, plays, and museums. VPA LC members can take advantage of Learning Community trips to New York, Philadelphia, and Washington, D.C., as well as local program both on and off campus.
Assistance from trained peer mentors who provide support in a number of ways including coordinating study groups and organizing activities.
A chance to quickly get to know a group of students with similar interests and join a built-in support network.